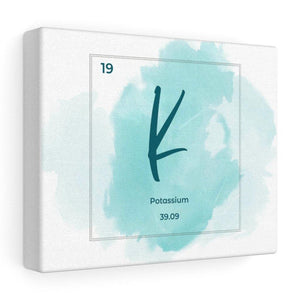 Handmade Potassium (K) wall decor canvas with an elegant design that will stand out to any science enthusiast. 
Potassium is a chemical element with the symbol K (from Neo-Latin kalium) and atomic number 19. Potassium ions are vital for the functioning of all living cells. Fresh fruits and vegetables are good dietary sources of potassium.
Handmade wall decor canvas with a design that will stand the test of time.

Get Cobalt-Oxygen-Potassium to Co-O-K up some magic!
Check out our design story!
[Product Details]
.: 100% Cotton fabric
.: Wooden frame
.: High image quality and detail
.: For indoor use